Customer Reviews
27 Oct 2021
Stella O.

United States
I recommend this product
Beautiful dress
This is a beautiful dress. Perfect fit and it's perfect with the top.
18 Aug 2021
Luisa

Mexico
I recommend this product
Cute!
I'm surprised the dress is actually accurate to what you see on the pictures, I have only used it once but the quality seems nice so far.
04 Aug 2021
rebecca

United States
I recommend this product
Very cute but the fabric at the button holes is frayed. (Blouse)
-The blouse arrived slightly wrinkled. -The buttonholes were somewhat frayed which made buttoning the buttons difficult. The fabric would get caught on the buttons and I would have to either wiggle the button out of the frayed fabric or tear it. -The size of the blouse was perfectly baggy (I ordered a Large) -Overall, the fabric and production quality could've been better, but its very cute nonetheless.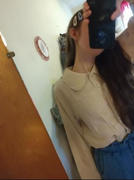 30 Jul 2021
Alexa M.

United States
I recommend this product
Worth it!!!
This dress is absolutely everything I hoped for. If I had a nickel for every time I stumbled upon a cute outfit like this on Pinterest and couldn't actually find it online, I'd be wealthy, but sad. I was worried that the dress may be too small or cheaply made, but I was surprised with a high-quality product that fit beautifully. As long as you reference the sizing chart properly, you won't be disappointed. I will definitely be suggesting this site to my friends and buying more products.
22 Apr 2021
Kirra L.

United States
Worth the Money!
One of my favorite outfits I own. I get many compliments every time I wear it! I like to dress it up with a blue sweater to add some color to it :)
28 Mar 2021
Jacky M.

United States
I recommend this product
Review on dress
it feels really nice and overall comfy, its very pretty too :)